One of the real joys of a handmade business is the direct line of communication between the artist and the customer. As a buyer of handmade goods, I love having a chance to talk to the artist, get a sense of the process, or read about them online. As a seller, I similarly delight in knowing exactly where my little creation is going to end up, be it down the street or on the other side of the world. I imagine a little boy in Korea opening up his car mat, and another little boy in another time zone doing the exact same thing--they will both make the same rumbling and screeching noises as they push their toy cars over the roadways, though they may use different words to say thank you for the gift.
With the holiday season upon us, I thought I would point you in the direction of a few artists who I really feel ooze joy and creativity with their offerings for children. And I do mean a few-- there is so much to choose from, and isn't that wonderful?
Becky of
Chirp & Bloom
is an apparel designer who has branched out wonderfully to purses (like the adorable one above), sachets, and other additions to her line of gorgeous clothing for kidlings. You'll love her use of traditional sewing techniques and vintage fabrics.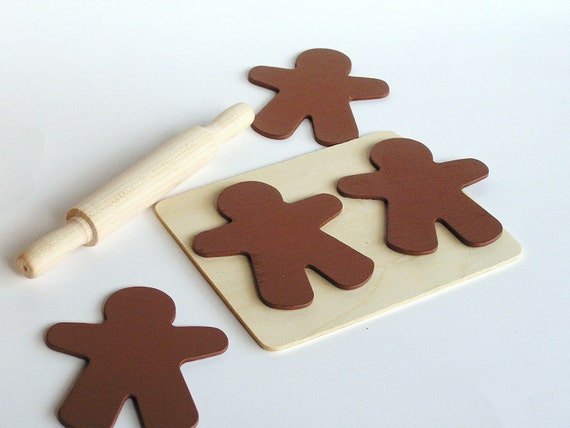 Apple n Amos
will knock your socks off with beautiful wooden toys that are designed for learning and fun, like this sweet gingerbread cookie set. Many of the toys are painted with a non-toxic, water-based wash and sealed with beeswax. Wooden toys aren't the only thing you'll find in this shop--look for handsewn and crocheted items as well.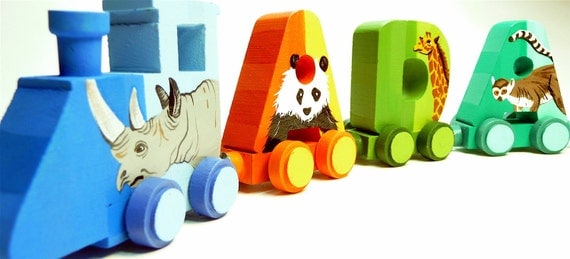 For a fun twist on the personalization trend, I love these handpainted name trains from
Vibrant Trains
. Boys and girls alike love trains, and these bright and colorful name trains would also make wonderful nursery decor.
I hope that some of these finds will encourage you to look to the handmade market this holiday season for that unique gift that will be appreciated all year long!